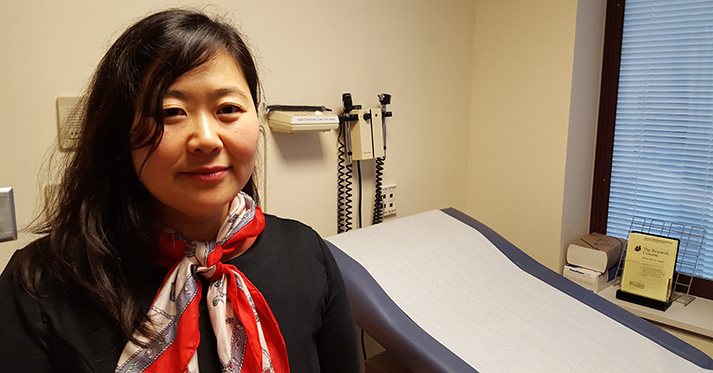 16 Feb

Meet Hyacinth Lee, Clinical Research Center Nurse Manager

Tell us about your role at ITHS.
I oversee the Institute of Translational Health Sciences' Clinical Research Center (CRC) and the Inpatient Research Activity Support program. The role includes working with researchers in protocol implementation on the CRC and ensuring their studies are Institutional Review Board-approved and feasible.

Where were you before coming to ITHS?
I oversaw a disease management program and a research group at Johns Hopkins in Baltimore, Maryland. I also worked with various research teams as a research coordinator or a research assistant.

Have you always worked in research?
No, my first job was working as a clinical nurse in a cardiac intensive care unit. I have been a nurse for over 20 years. For the last 15 years, I've been involved with research. Before coming to ITHS, I did more community nursing research.

Why did you move into research roles?
I went back for my graduate program because I realized that there were other ways to practice nursing through teaching or doing research. What drew me to research was being able to help communities get healthier and receive treatment that was not available before. Being able to improve overall health through research excited me.

What services does CRC offer to investigators?
The CRC offers investigators the facility and staff they need to conduct clinical studies. The facility has inpatient and outpatient beds, a CLIA-certified lab, and research equipment. Our research staff provides clinical services that study teams may need, such as blood draws, placement of IVs, EKG testing, drug administration and clinical monitoring.

Because we are located in the UW Medical Center, investigators have immediate access to emergency care within the hospital if needed, which helps ensure the safe conduct of their studies.

Are the CRC nurses specialized in research?
Many of our nurses have been doing research nursing here for 20-plus years. Our nurses really enjoy working in research and being able to help with the advancement of science. Their longevity in the roles has allowed them to establish strong relationships with principal investigators and research coordinators who engage in clinical and translational research.

What kinds of studies has CRC supported in the past?
The CRC has supported a wide range of studies, from studies on male contraception to cystic fibrosis to looking at epigenetic differences related to depression in twins. The CRC is currently conducting a Phase 3 study on vaccine immunotherapy in breast cancer treatment.

The CRC will be implementing a new cost model this spring. What's new?
We are moving away from task-based invoicing to hourly rates. This simplification of the cost model will make it easier for investigators to develop their research budgets involving the CRC. The new model will also make it easier to reconcile monthly invoices for CRC services. We've received good feedback on the simplification of this model during testing and are looking forward to rolling it out to everyone.

What gets you excited to come into work every day?
I enjoy the staff. When I see them busy and working with patients and research teams, it definitely makes me happy. Reviewing the new protocols is also fascinating as I learn a lot every time one comes through. That learning is one of the great things about the many different facets of nursing.

How can researchers learn more or register a study with the CRC?
The best way is to complete the Contact Us/Request Services form on the Clinical Research Center page on ITHS.org.