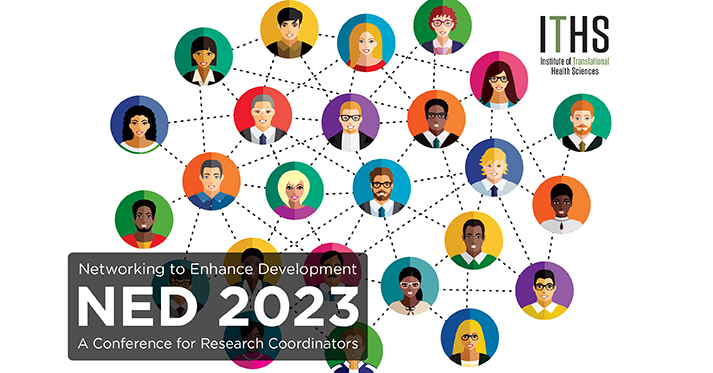 24 May

NED Conference Brings Research Coordinators Together

On May 18, the ITHS Education Team hosted the return to an in-person offering of our annual NED (Networking to Enhance Development) conference for research professionals of all levels of experience who perform research coordination duties in the health sciences field.

Our event featured a keynote presentation on Equitable Access to Research presented by Allison Larimore, MSN, RN, CCRN, Trauma and Vascular Surgery; Research Nurse, Department of Surgery – University of Washington at Harborview Medical Center. Following the keynote our attendees participated in breakout discussions on the topics of: Managing Up; Supporting Resilience Through Connection; Equity, Diversity, and Inclusion & the Practice of Equitable Research; and Reducing Study Staff Burden with REDCap.

We reached our registration maximum capacity of 75 the day that registration opened, in addition we had a wait list of over 80 people. Our 60+ attendees represented the affiliated partners across the University of Washington, Seattle Children's, and Fred Hutch. We also had attendees from the Veterans Affairs as well as participants who traveled from Providence Sacred Heart Medical Center in Spokane to join the event. More than half of our audience were attending their first ever NED event, with nearly as many people stating that this was the first ITHS event they participated in.

After the keynote and breakouts, our attendees were invited to join the ITHS Expo event where there were 10+ research services or offices present as part of the Expo to engage our NED audience around questions they had about services. These presenters included UW IRB, CTMS, Compliance and several other research services and offices.

Thank you to our fantastic keynote presenter and breakout discussion facilitators who shared their time and expertise with us, our excellent planning committee members, and the service offices and representatives that participated in the ITHS Expo. And another thank you to those who attended this return to an in-person NED event. We look forward to our event next year, and also to our virtual event being planned for October 2023 for those across the WWAMI region.

Learn more about everything the ITHS Education team offers here.

Join ITHS to take advantage of all our programs.