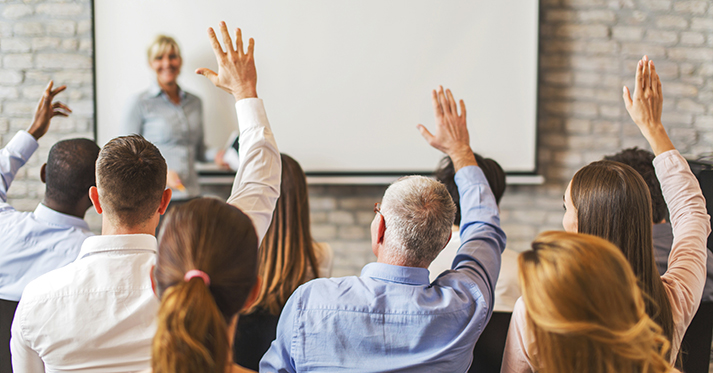 17 Aug

Research Coordinator 2016 Trainings: Call for Presentations

The ITHS Networking to Enhance Development program is planning its 2016 events. We gathered ideas for session topics from the 2015 Annual Conference survey, and we also welcome other ideas. We want to hear from you!

Are you or someone you know be interested in presenting a professional development session?
Speaking at a professional development event is a way to demonstrate your leadership in the field, raise your recognition, and expand your professional network.

Not confident about speaking?
Our team will help you develop your slides and handout(s), and will also provide other support to get you ready for your session.

See a didactic or experiential session idea you love and know someone who could speak to it?
Recommend the topic and speaker to us, and we will work on recruiting them to speak.
Session Proposal
Please respond to Mandy Morneault (vicka@uw.edu) by Tuesday, September 22, 2015 with:
Your name
Session type
Topic
Target audience
Brief narrative about the proposed session, with two to four learning objectives
If you'd like to refer a colleague as a possible speaker, please send their contact information and suggested topic and we will follow up.
Target Audience
Beginner: For individuals new to the field, with limited or no prior knowledge or experience of the topic, who are seeking to learn the fundamentals of a subject area.
Intermediate: For individuals with working knowledge of the topic, including basic concepts, underlying principles, or operational processes. Attendees seeking to expand their knowledge and skill set beyond fundamentals toward more complex or nuances of the topic. Session likely includes interactive discussion or activities.
Advanced: For knowledgeable individuals who possess well-developed experience in the area. These individuals are seeking to increase mastery or get the most up-to-date information on the topic. Attendees acquire in-depth knowledge and the robust set of skills required to address difficult problems and navigate gray areas related to the topic. Session includes illustrative cases and requires interactive discussion, strategic problem-solving, and sharing with the group.
Session Types and Topics
I. Didactic Session (45 to 50 minute didactic learning, with 10 to 15 minute Q&A)
A. Single speaker: Theoretical learning aimed at filling knowledge gaps
B. Panel Session: Provide three to four different perspectives on a single topic. Panels must consist of three to four speakers plus a moderator. Panel members should be from different department/institutions and be sourced from different but complementary topic areas so attendees can appreciate different perspectives (e.g., sponsor and site, CRO and sponsor).
Suggested Didactic Topics:
Clinical Trials vs. Clinical Research
Academic vs. Industry Research
Pediatric Issues in Clinical Research
Regulatory Issues (revised regulations, new guidelines, interpretations, applications, etc.)
Conducting Research in an Outpatient Clinic
II. Experiential Learning Session (30 to 45 minute didactic learning, 30 to 60 minute small group discussion/activity)
Single-speaker session (with optional one to two facilitators) designed to plunge into case studies, scenarios, and small group discussion. Speaker (and facilitator) serves as resources to confirm, debrief, and facilitate group discussion. Suggested experiential learning topics include:
– Research Coordinator Hard Skills
Auditing
Best practices for managing an IND or IDE
Budgeting for dummies (developing and managing budgets)
Grant planning
IRB for dummies
Managing multiple studies and/or large, diffuse workload
Project management (tips to track milestones and optimize time)
Protocol development
Publication
– Research Coordinator Soft Skills
Asking for promotions or salary increases
Bridging the gap from coordinator to leader
Clinical research certification (how to pay and how to prep)
Communication style (self-awareness exercise)
Dealing with difficult research participants, managers, clinics, PIs, families, caregivers, socio-economic status issues
Deepening your knowledge of disease (how to learn more about the disease, the patient experience with their disease or their experience as a research subject)How to elevator-pitch a study
Graduate school degrees for careers in research (to be a PI and not to be a PI)
Translating your skills: Jobs a research coordinator could pursue outside of academic research and how to break into industry/pharma from academic research