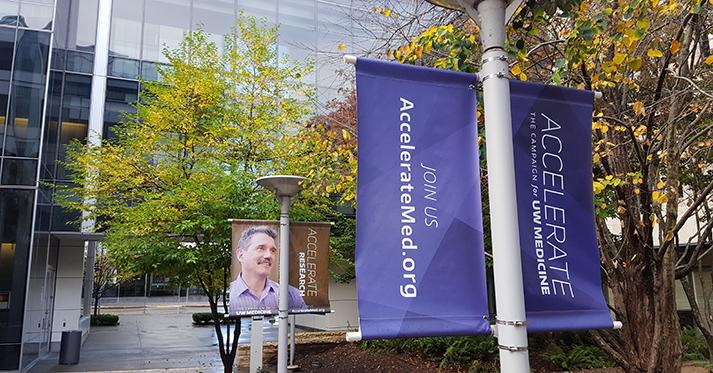 09 Nov

ITHS' Team Science Approach Highlighted in UW Medicine's Accelerate Campaign

The article on the Accelerate: The Campaign for UW Medicine website begins with a question: "What takes a nutritional supplement into the realm of medical research?"

"The short answer: a study at the Institute of Translational Health Sciences."

Over the next 1,219 words, the writer describes how innovative research depends on collaboration among multi-disciplinary and the ways ITHS helps promote that collaboration.

Dr. Mary L. (Nora) Disis, Principal Investigator of ITHS is quoted in the article, saying "Translational science is team science. Training people to work as teams throughout the entire translational process is what we have to do to get new [therapeutic] agents into the clinic faster."

The article also highlights the collaboration between investigators and ITHS KL2 Scholars who partnered to study the nutritional supplement resveratrol.

About the Accelerate Campaign

Accelerate: The Campaign for UW Medicine seeks to raise $2 billion for research, education and patient care by 2020. It is part of the University of Washington's largest philanthropic campaign ever, Be Boundless: For Washington, For the World.

The campaign will focus on 12 priority areas ranging from global health to cancer research, from protein design to medical education, and from healthy aging to mental health. These priorities have been selected because they address those discoveries that will most benefit human health, and they are areas in which UW Medicine is a national or international leader.