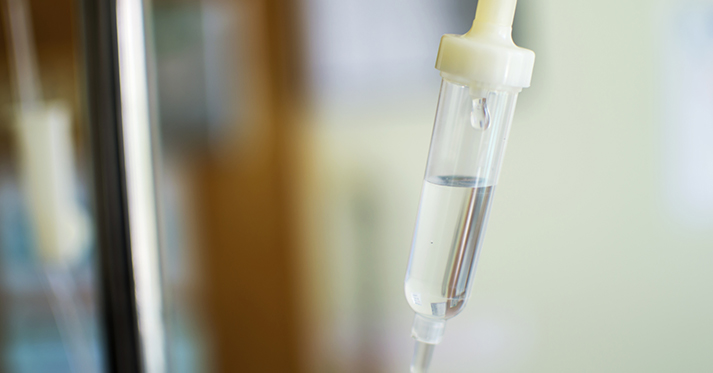 PI Taps ITHS RCC for Study on Busulfan Metabolites

Dr. Jeannine McCune was beginning to feel stretched thin. Her NIH-funded study on intravenous busulfan metabolism was moving forward, but she was acting as both research coordinator and principal investigator for the project.
"That has been, to me, the biggest advantage of having ITHS around—having these kinds of services in an unexpected emergency."
Hyacinth Lee, nurse manager at the
ITHS Clinical Research Center (CRC
), then had a question for McCune about a research blood draw for the busulfan study, which she was helping to support. When McCune explained that she did not have the time to dedicate to the issue, Lee suggested she look into the
ITHS Research Coordination Center (RCC)
, which offers investigators immediate access to trained research support staff on a fee-for-service basis.
In October, McCune began working with a temporary ITHS research coordinator, which "has been a lifesaver," she said. "That has been, to me, the biggest advantage of having ITHS around—having these kinds of services in an unexpected emergency."
McCune, a Professor at the University of Washington School of Pharmacy and Member at the Fred Hutch, and her team are studying how busulfan breaks down in the body and if this breakdown predicts clinical outcomes. "We hope to make cancer drugs work better," she explained.
Busulfan is an alkylating agent that is used to prepare patients for hematopoietic stem cell transplantation, a procedure that reestablishes hematopoietic function in patients whose bone marrow or immune system is damaged or defective.
Busulfan is given before a hematopoietic stem cell transplant to destroy existing blood cells and any remaining cancer cells. This suppresses the patient's immune system and helps prepare the patient's body for the new allogeneic stem cells.
Before busulfan regimens, total body irradiation was the only way to condition patients for stem cell transplants. The high doses of radiation used can lead to long-term toxicity and side effects, including infertility.
"Busulfan regimens have enabled clinicians to get away from using total body irradiation," McCune explained. "But the problem has been that doctors need to be really careful with the drug dosing. If the levels are too low, the patient could reject their graft or have relapse of their disease. If the levels are too high, they can have liver toxicity."
McCune hopes her research can help doctors to better dose busulfan "to make sure patients live longer, and, hopefully, also decrease toxicity."
Using metabolomics, McCune is studying how a patient's body breaks down busulfan by evaluating small molecule metabolites found in plasma before and after busulfan administration. She is also looking at how patient factors, such as age and body size, can influence how the drug is broken down.
To study the metabolites of busulfan, McCune and her team look at blood samples taken before and after a patient receives a busulfan infusion at Seattle Children's or UW Medical Center. McCune works with the ITHS' Pediatric Clinical Research Center (PCRC) at Seattle Children's to help obtain many of these samples.
In addition to the ITHS RCC and PCRC, McCune is collaborating with Fred Hutch, Seattle Children's Hospital, as well as the Northwest Metabolomics Research Center and Mass Spectrometry Center at UW. "This is team science," McCune said. "It's a great example of different groups coming together."
Ultimately, McCune hopes metabolomics-based biomarkers can be used to personalize busulfan dose well before treatment begins to help improve overall survival in hematopoietic stem cell transplant recipients.