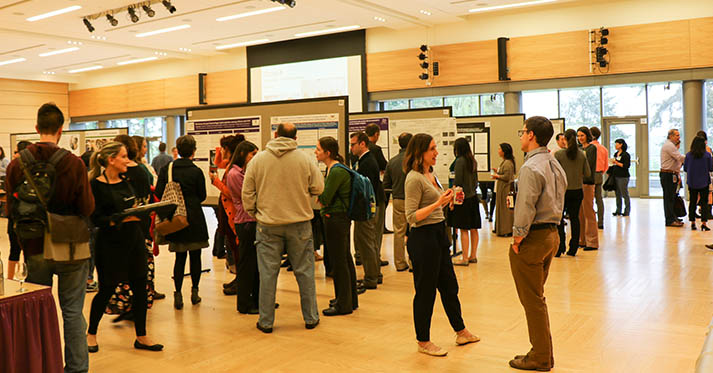 25 May

The Inaugural ITHS Translational Science Expo
Through activities like this, the ITHS aims to provide the translational science community with a research home
ITHS members, trainees, mentors, and faculty, came together to learn about the latest contributions to advancing translational science. "Through activities like this, the ITHS aims to provide the translational science community with a research home" said ITHS Principal Investigator, Dr. Nora Disis. In this way, "the ITHS Expo provides an outlet to share their achievements and generate new ideas, new collaborations, and new projects."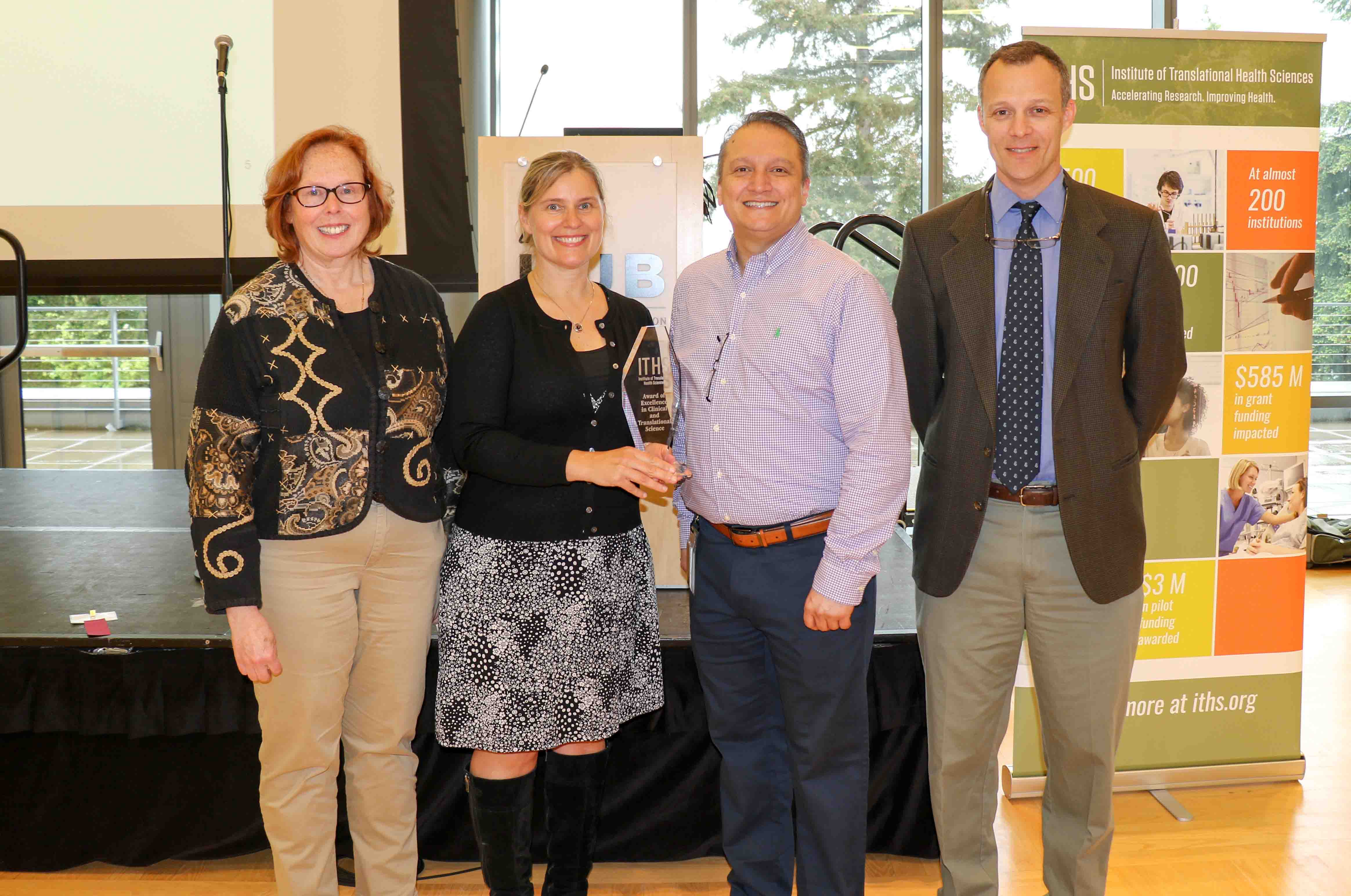 Dr. Christy McKinney, recipeient of the ITHS Award of Excellence in Clinical & Translational Science pictured with Drs Nora Disis, Carlos De La Pena, and John Amory
The Expo began with opening remarks from Dr. Disis and the presentation of the ITHS Award of Excellence in Clinical & Translational Science, an annual award to honor ITHS faculty and/or staff who have made a significant contribution to advancing translational science. This year's award was given to former KL2 scholar Christy McKinney PhD, MPH for her achievement in developing the Neonatal Intuitive Feeding TechnologY or "NIFTY" cup. This innovative and low-cost device is designed to aid in feeding newborns with cleft palates or other oral challenges that live in low-resource settings.
Following the award, there were two poster sessions. This allowed ITHS scholars a chance to both discuss their work and engage with fellow presenters, and other investigators in attendance. Researchers mingled to discuss topics ranging from point-of-care viral load diagnostics to the analysis of transient brain states in subjects with Autism. This event brought together investigators with expertise in many fields and who are working within all the phases of the translational research spectrum.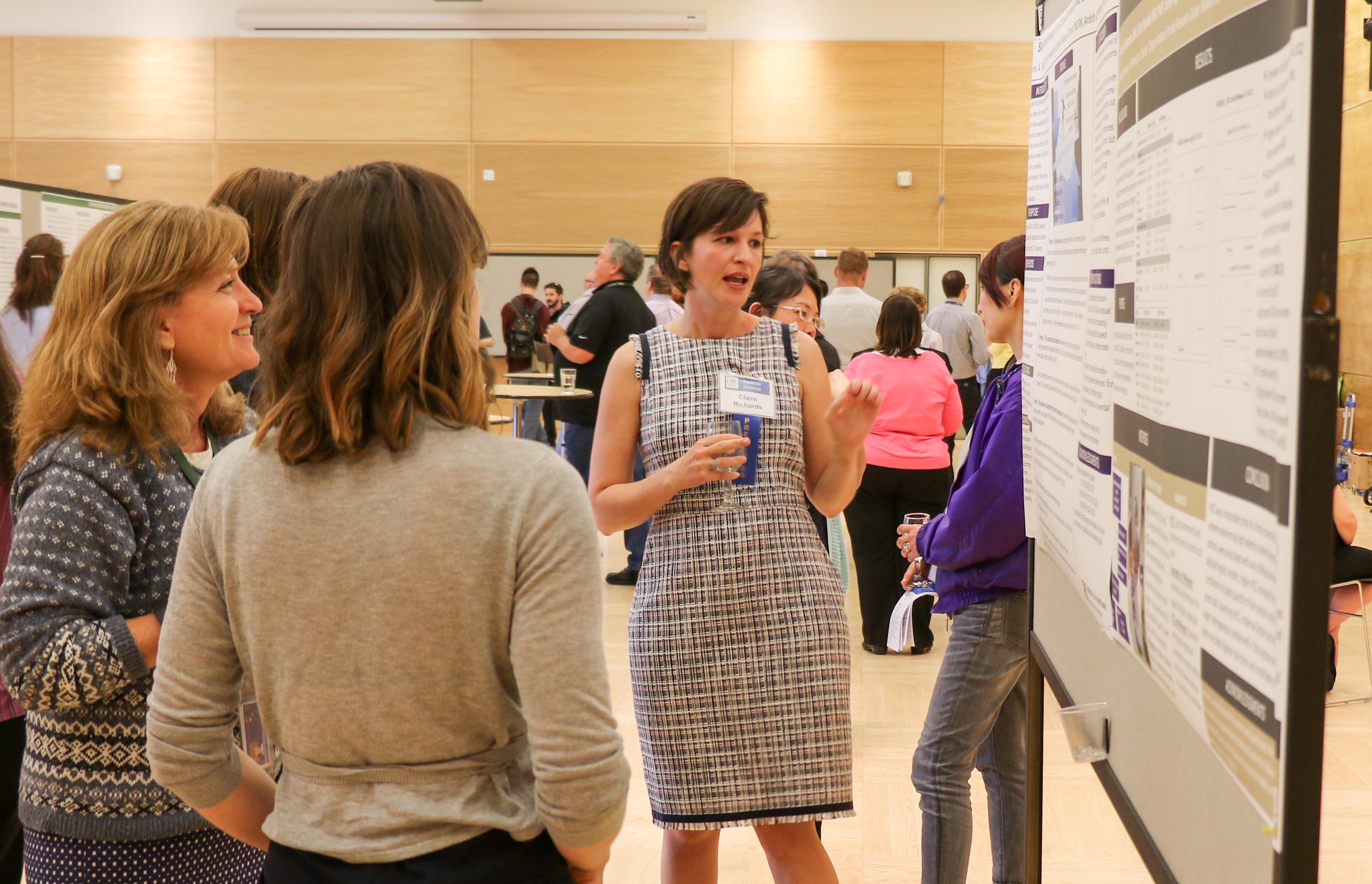 TL1 Trainee Claire Richards, PhD(c), BSN, RN, CHPN presents her research on shared decision-making for pediatric intensive care patients.
ITHS supports investigators across all six health sciences schools, and the college of engineering, and those who work in the laboratory or in the clinic. Sharing ideas across multiple disciplines helps catalyze translational discoveries. "The event was really interesting because I had a chance to speak to people that are doing research on the system or administrative side of health care delivery," said TL1 Trainee Claire Richards, PhD(c), BSN, RN, CHPN a doctoral candidate with the School of Nursing. "It was a great opportunity to learn about what other scholars have been working on" Richards continued.
Each of the ITHS programs aims to match early career translational researchers with the right funding, people, and resources in order to provide the support to facilitate success toward the goal of accelerating science to improve health. The Translational Science Expo provides a home to honor and catalyze the continuous accomplishments of these researchers.