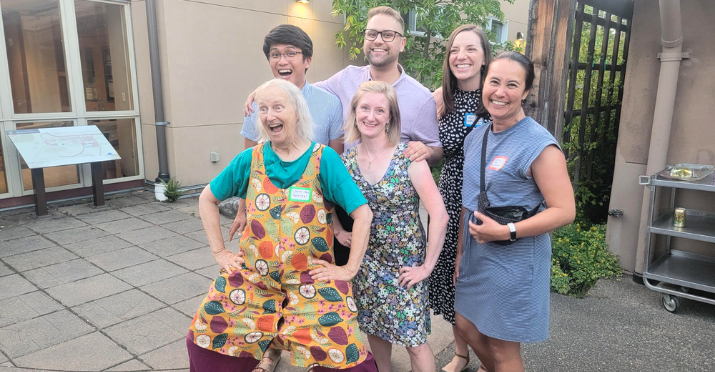 01 Nov

Dr. Laura-Mae Baldwin's Retirement

Congratulations, Dr. Laura-Mae Baldwin on your well-earned retirement! Dr. Baldwin's contributions to ITHS have been invaluable, and we are immensely grateful for all the years of hard work she has dedicated to moving translation science forward. Although she is retired from her practice, Dr. Baldwin will continue to act as a senior advisor to the ITHS WWAMI Region Practice and Research Network (WPRN) and maintain professor emeritus status.

In an attempt to encapsulate the profound impact Dr. Baldwin has had on our organization, some of our ITHS leaders and team members shared a few thoughts about her years of dedication and partnership.

Thank you, Dr. Baldwin!

The WPRN would not exist without Laura-Mae's passion and dedication. Her collaborative spirit and warm heart brought clinics, investigators, and the WPRN team together to get excited about this work, and made the WPRN a very special network. It was an amazing experience to work alongside Laura-Mae to grow the WPRN and develop so many relationships through this work. Congratulations on your retirement!
-Gina Keppel, MPH, WPRN Member

Laura-Mae achieved her success as a researcher, clinician and educator using her amazing skills at building relationships. Relationships with students, residents, UW faculty, and primary care clinicians across the WWAMI region. Her humor, her attention to detail, and her devotion to improving health care for all is evident across the arc of her amazing career. We will miss you Laura-Mae!
-Dr. Michael Parchman, MD, MPH, WPRN Member

Dr. Laura Mae Baldwin was one of my original mentors who welcomed me into the ITHS family. She patiently provided guidance and direction as I assumed larger roles in regional leadership. Her expert advice on community engagement in clinical and translational science was instrumental in securing our Kidney Precision Medicine Project (KPMP) grant from the NIDDK. As a result, the KPMP is considered a national leader in community-engaged research among NIH consortia across specialties and disciplines. Most importantly, Laura Mae is a kind, compassionate, and generous person who makes the world a better place by her very existence. May retirement return many blessings to her… And, we will surely miss her!
-Dr. Kathy Tuttle, MD, Executive Director for Research, Providence Medical Research Center, Professor of Medicine, Division of Nephrology and Regional Principal Investigator, Institute of Translational Health Sciences, University of Washington

There are so many things to appreciate about Laura-Mae. First and foremost I appreciate her commitment to engaging with primary care practices, clinicians, and patients to collaborate on research. Laura-Mae always reminds us to consider what is important and feasible in the real-world, and without that perspective none of the research we do would matter.
-Dr. Allison Cole, MD, MS, Director of WPRN, Associate Professor, University of Washington 

As my first supervisor when I joined the ITHS, Laura-Mae has been a valued mentor, colleague, and friend. I have learned many things from Laura-Mae, especially how to be an active listener. Laura-Mae's ability to make everyone feel welcome and heard, and capacity for empathy are truly remarkable. I'm grateful for her many lessons and wish her all the best in her retirement.
-Laurie Hassell, Director of Community Engagement for the Institute of Translational Health Sciences

Laura-Mae brought unflagging passion, empathy, creativity, experience, and intellectual curiosity to our Six Building Blocks work to improve opioid management in primary care. Within our team and community partnerships, Laura-Mae fostered a collaborative and compassionate environment which empowered diverse stakeholders, including clinics, public health departments, and researchers to come together to achieve transformational projects. It was an absolute privilege and delight to get to partner with her in this important work. Quality improvement personnel, primary care organizations, and individual doctors and clinical staff across Washington and the nation benefited from the interventions, trainings, resources, and guidebook developed in collaboration with Laura-Mae. We will miss her!
-The Six Building Blocks Team

I remember so fondly the founding days of the WPRN 'way back when' and Laura-Mae's sheer enthusiasm and delight with all the partners and processes coming together to form this new entity which later got its name (WPRN). Laura-Mae was absolutely the perfect researcher to take on the WPRN with her palpable excitement when engaging with the the broader WWAMI community!
-Ardis Davis, MSW, WPRN Member

ITHS wishes Dr. Baldwin a happy retirement!