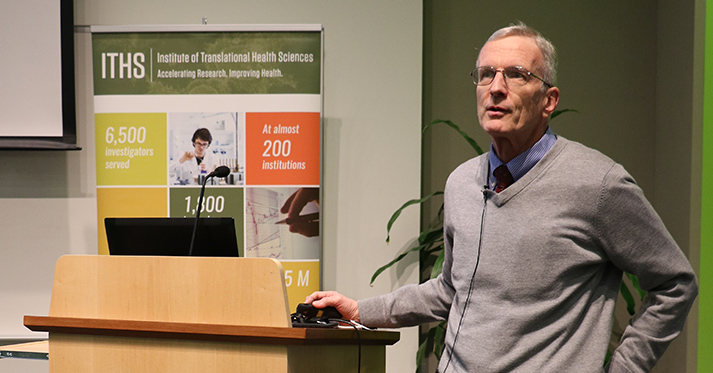 05 Feb

Former NIH Grant Reviewer Paul Martin Offers Behind-the-Scenes Look at an NIH Study Review

Dr. Paul Martin, co-Principal Investigator of the Institute of Translational Health Sciences and a former National Institutes of Health grant reviewer, offered a behind-the-scenes look at NIH study sections to attendees of an ITHS Career Development Series event on February 4, 2016. He discussed the fundamentals of grant review, including an overview of study sections, grant scoring, and other tips for success.

Dr. Martin also offered several strategies for writing a stronger application, including:
Take full advantage of the abstract portion of your application. Use clear, concise language to explain how your research has potential for high impact.
Do not be afraid to sell yourself in the personal statement section. At one time, submitting a CV was enough, but that no longer works. Explain what you have done in the field and how your work has made an impact.
Avoid jargon and use less acronyms. Focus on writing clearly and concisely.
Your application should also be visually appealing with adequate white space between columns and paragraphs. "Visual aesthetics are very important," Dr. Martin said.
Check your work. Ask a friend or colleague to review your application, look for typos, and ensure your ideas are clear to the reader.
Don't rush yourself. Set aside at least a month to work on the application.
To view the slides from Dr. Martin's presentation, download the PDF or view the presentation on SlideShare.