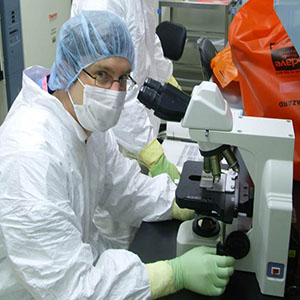 16 Jun

ITHS Gene and Cell Therapy Lab Services Available to Region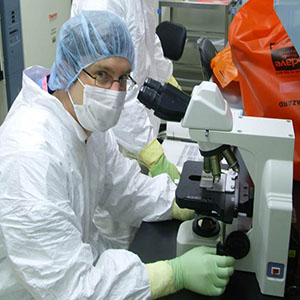 As the National Institutes for Health's Clinical and Translational Science Awardee for the five-state WWAMI region, the Institute of Translational Health Sciences supports researchers at the University of Washington, Fred Hutch, Seattle Children's, and elsewhere with their NIH-funded research. This support includes offering the infrastructure, training, and technical expertise necessary to facilitate translation of gene and cellular therapy research via the ITHS Gene and Cell Therapy Lab.
The Gene and Cell Therapy Lab is a biologic manufacturing facility designed to support Phase I/II clinical trials. Located within the UW Medical Center, the 2,200 square feet clean room facility is ISO class 7, with four independent manufacturing suites equipped with continuous monitoring systems, a CliniMACS® cell selection system, a controlled rate freezer, and LN2 vapor storage system. The Lab's close integration with the ITHS Clinical Research Center offers access to on-site apheresis, patient care rooms, and nursing services, which allows for more cost-effective and integrated study design.
Typical customers of the Lab include clinical investigators in both industry and academia pursuing vector technologies, immunotherapy, stem cell therapy, or cord-blood transplant. ITHS also offers all the services related to biological product manufacturing, such as assistance with regulatory and IND filing, as well as cryopreservation and secure archiving.
A recent phase I study conducted in the Lab evaluated the safety and feasibility of intraoperative injection of bone marrow derived stem cells into hearts of patients with end-stage ischemic cardiomyopathy undergoing placement of Left Ventricular Assist Device (LVAD).  A different Phase I/II study evaluated the infusion of HER-2/neu specific T cells in patients with Advanced stage HER-2/neu expressing Cancers who have received a HER-2/neu vaccine Lymphomas.
To learn more about how the ITHS Gene and Cell Therapy Lab can meet your research needs, please contact Ponni Anand by email at ponnia@uw.edu or by phone at (206) 598-7038.