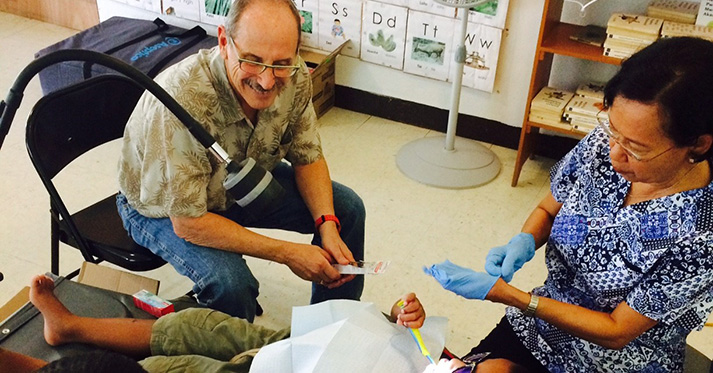 Dr. Peter Milgrom with clinical trial participant
02 Jan

UW dental research team receives breakthrough therapy designation from the FDA

Early childhood caries, a disease caused by dental decay, is one of the most prevalent illnesses both nationally and globally. Children visit to the dentist regularly to treat and prevent the development of cavities and dental caries. Dr. Peter Milgrom is working with the ITHS Regional Clinical Dental Research Center (RCDRC) to test a new technology intended to prevent tooth decay and stop this disease in its tracks.

Making new medical techniques available is the heart of translational medicine and includes testing hypotheses regarding efficacy, ensuring safety, and meeting regulatory requirements. Dr. Milgrom discovered with his research that Silver Diamine Fluoride could have a powerful effect on treating early childhood caries (ECC) and began searching for ways to get this new treatment to communities as quickly as possible.
Working with the Food and Drug Administration (FDA)
Bringing a new therapy to market is a slow and expensive process. There are strict regulations which must be adhered to, years' worth of research data to obtain, and processing fees to be paid. For very promising new treatments, the FDA offers a 'fast pass' lane to expedite the development and review of an intervention in hopes of reaching the patient population as quickly as possible. This 'fast pass' is called breakthrough therapy designation.
In order to be designated a "breakthrough therapy" the new treatment must address a serious or life threatening condition and have demonstrated a substantially significant improvement to current treatment options in preliminary clinical evidence. Since this path became available through congressional act in 2012, the FDA has only approved cancer and HIV treatments; Dr. Milgrom's Silver Diamine Fluoride (SDF) is the first breakthrough therapy drug outside of that realm.
Breakthrough therapies have the opportunity to disrupt the standard of care. Currently, ECC is often treated with dental operations to excavate the decay. This is an expensive operation with high risk factors, and moreover it does not treat the cause of the disease, only the symptoms. "As an academic, I see it as part of my responsibility to help change the paradigm" said Dr. Milgrom, "and provide a more effective alternative".
As an academic, I see it as part of my responsibility to help change the paradigm
Changes in standard care do not happen overnight. Dr. Milgrom and his team faced the challenge of gathering evidence to support the change while simultaneously providing a path for dentists to adopt the new technology in their treatment plans.
Clinical Trials
In order for the FDA to grant the breakthrough designation, they needed enough data to demonstrate that SDF was a better treatment and safe to use. This data was acquired through a Phase II Stopping Cavities clinical trial supported by the ITHS Regional Clinical Dental Research Center (RCDRC). With the breakthrough designation, Dr. Milgrom was able to work closely and collaboratively with regulatory officers and scientists at the FDA to map out a path towards approval.
The next step was to ensure that there were no negative effects when SDF is metabolized in the body. The team conducted another clinical trial with the ITHS Translational Research Unit to study pharmacokinetics: the way the drug is digested and its potential side effects. Once it is determined that an individual can safely digest the small amounts of SDF used for dental treatment, it can be tested on a larger scale in a Phase III multi-site trial.
Typically, Phase III trials can take years to design and obtain funding, however, with the help of the FDA breakthrough therapy designation, Dr. Milgrom was able to facilitate the protocol approval and grant funding all within a few months. The Phase III trial will be conducted at the University of Michigan with partners at NYU and the University of Iowa. "It would not have happened without the work that everyone has been doing here at the RCDRC… it's such an amazing story, nobody in the industry even believes me when I tell them" says Dr. Milgrom, speaking of how SDF is moving through the hurdles of drug development.
Changing the standard of care
Silver Diamine Fluoride is easy to administer, powerful against tooth decay, and has the potential to eliminate costly and ineffective surgical treatment. Dentists already know how to apply varnish and are eager to have an alternative therapy to offer children with dental caries. As Dr. Milgrom says, "this is the most rapid adoption of any new technology in dentistry; it's a game changer."
This is the most rapid adoption of any new technology in dentistry; it's a game changer
How the therapy works
None of this would have been possible without a truly innovative technology. It is well known that bacteria cause tooth decay. There are many types of bacteria living in our mouths, about 50% of which colonize the teeth. The bacteria digest the sugar in one's diet and secrete water and acid. Too much acid on the surface of the tooth can cause decay.
Consider, for example, how potholes form on roads. New pavement appears impenetrable, however over time, the chemicals from cars sink into the pavement causing the underlying structure to become weaker. Eventually, the asphalt has slowly disintegrated enough to completely cave in and cause a hole to form on the surface of the road. There is a similar outcome when a tooth faces too much acid secreted by bacteria.
The current approach to dental health is twofold: strengthen the surface with fluoride and remove decay when it appears. Fluoride is added to drinking water, toothpaste, and topical tooth varnish to help reinforce the tooth's surface against acid damage. Once a tooth begins to decay, a dentist will remove the affected area and replace the hole with a stronger material adhered directly to the healthy portion of the tooth. Neither of these options treat the cause of the decay itself.
One advantage of Silver Diamine Fluoride (SDF) is that it attacks the bacteria directly alongside the fluoride. Silver has been used as an antimicrobial for thousands of years. The innovation in SDF is the combination therapy; using multiple drugs in lower doses can be more effective and have fewer negative side effects. The SDF is applied as a preventative agent used to arrest existing tooth decay and inhibit new decay.