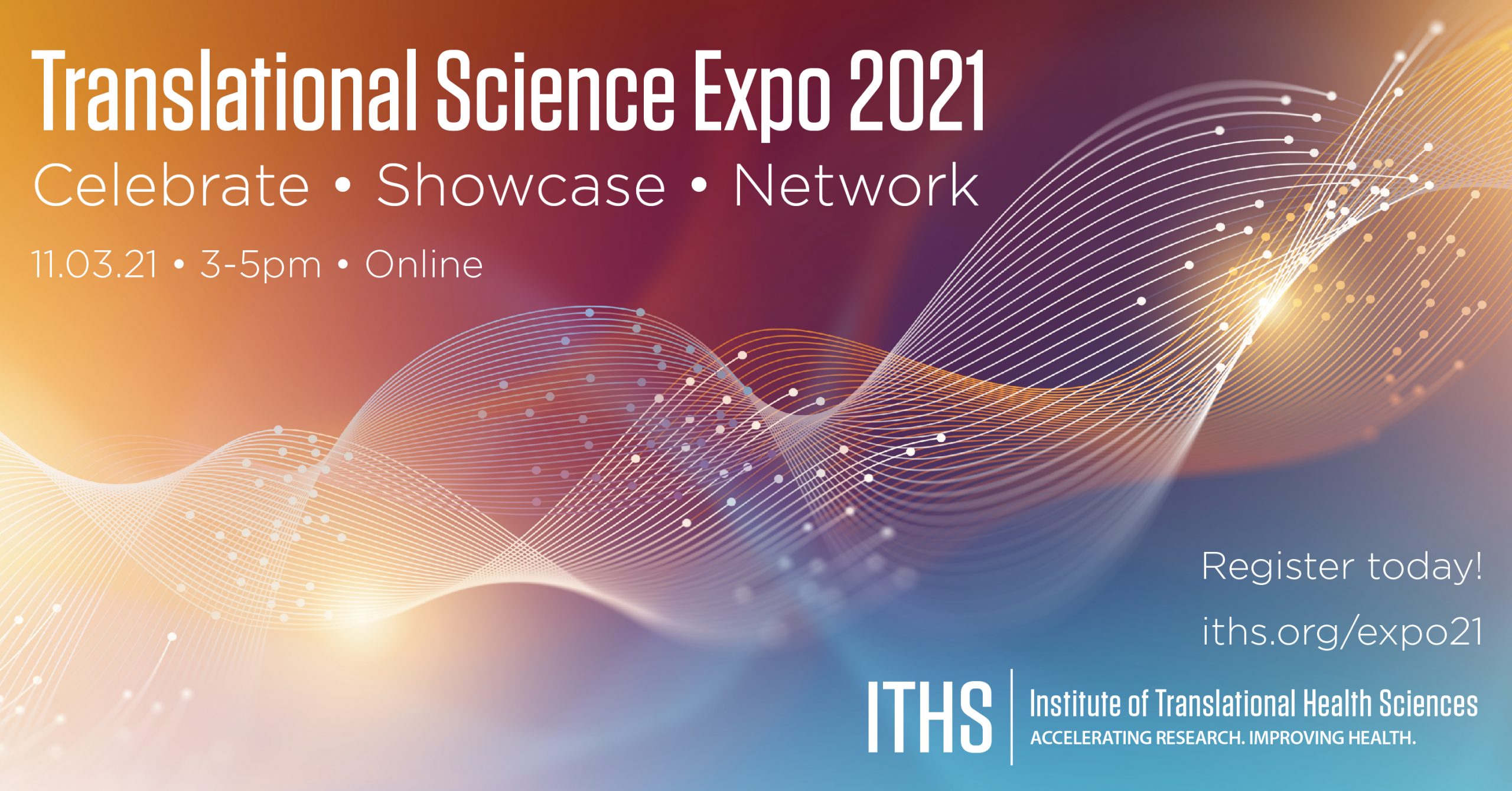 27 Sep

ITHS Translational Science Expo 2021

On Wednesday, November 3rd, the Institute of Translational Health Sciences will once again host the annual Translational Science Expo, an opportunity for ITHS-supported researchers from Seattle and across Washington, Wyoming, Alaska, Montana, and Idaho to Celebrate, Showcase and Network.

This will be a free online event featuring poster presentations from all six UW health sciences schools and beyond; opportunities to network with investigators, research administrators, students, and fellows; and the presentation of the Carlos De La Peña Award for Excellence in Clinical & Translational Science. We will also be showcasing some of our ITHS research services and programs available to investigators to help them in their research career journey. It will be a virtual research extravaganza!

Since 2017, we've hosted the Expo every May on the UW campus to celebrate the work of researchers in ITHS programs such as the KL2, TL1 and Pilot Awards. Last year, however, we weren't able to hold the event due to the pandemic. We are excited to be able to bring the Expo back and celebrate once again this fall in a safe, virtual environment.
Get ready to gather!
We've partnered with UW HUB Online Event Services to provide a virtual event experience which will resemble the in-person expo. Guests will be able to log in, create an avatar and roam around the online platform to visit as many poster booths as they want. We will have more than a dozen posters that guests can approach, tune in and visit with the presenters.
Carlos De La Peña Award for Excellence in Clinical & Translational Science
In addition to the poster exhibit, the Carlos De La Peña award will be presented. This honor is given to an individual who has made a discovery or a breakthrough in Translational Science, made significant improvements to the research infrastructure, or improved the process of accelerating translational research at ITHS.
Carlos De La Peña, MD, MBA, MHA, former Executive Director of ITHS, dedicated his career to clinical and translational science, holding multiple roles as a clinician, researcher, and administrator for large hospitals and research organizations. Dr. De La Peña provided the vision and tenacity required to make innovation happen every day. This award honors those who continue on this path to improving the health of our communities.
Agenda
Join us at this year's Translational Science Expo to learn more about how ITHS programs can further your research, and see how ITHS has catalyzed medical innovation in our region.
Register today at www.iths.org/expo21! Details and links to the Gather platform will be sent after registration.
WHEN:               November 3, 2021
                              3:00 p.m. – 5:00 p.m. PT
WHERE:             Virtual – Using UW Gather online event platform