23 Aug

Ideation: A fresh approach to brainstorming new ideas

Posted on August 23, 2017 @ 9:18am

in

When:

September 29, 2017 @ 11:30 am – 1:30 pm

2017-09-29T11:30:00-07:00

2017-09-29T13:30:00-07:00

Where:

UW Health Sciences Library 2nd Floor, Translational Research and Information Lab (TRAIL)
1959 NE Pacific St
Seattle, WA 98195
USA


Contact:

ITHS Education

206-221-1234

From where do research ideas come, and how can we get more of them? In this event we'll review some of the theories and their evidence, and also have our own "conversation of possibility" to try out some popular brainstorming techniques. Perhaps you will leave with a great new idea to develop!

Offered in partnership through ITHS and the Pacific Northwest Region's National Network of Libraries of Medicine, this event combines expert theory with an opportunity to practice ideation in a fun, innovative atmosphere.  You'll also enjoy a light lunch with fellow attendees.
By the end of this event, you will be able to:
Use the 10+10 exercise to identify and develop your ideas
Convene and facilitate group brainstorming sessions
Use the double-diamond design process with a group
Explain the value of group diversity in brainstorming
About the Speaker: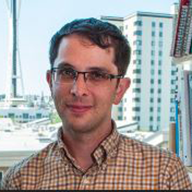 Abraham Flaxman, PhD, is an Associate Professor of Global Health at the Institute for Health Metrics and Evaluation (IHME) at the University of Washington. He is leading the development of new methods for measuring cost effectiveness of health interventions, and he is also engaged in methodological and operational research on verbal autopsy. Dr. Flaxman has previously developed software tools such as DisMod-MR, used by IHME to estimate the Global Burden of Disease, and the Bednet Stock-and-Flow Model, which has produced estimates of insecticide treated net coverage in sub-Saharan Africa for several editions of the World Malaria Report. This work uses Integrative Systems Modeling to combine a system dynamics model of process with a statistical model of data, to bring together all available sources of information. Dr. Flaxman earned his BS in Mathematics from the Massachusetts Institute of Technology. He earned his PhD in Algorithms, Combinatorics, and Optimization from Carnegie Mellon University in 2006.
Event Materials
1 MB

Ideation – Presentation