 30 Oct

Team Science Boot Camp 2021

Posted on October 30, 2020 @ 11:01am

in

When:

February 1, 2021 @ 12:00 pm – February 5, 2021 @ 2:00 pm

America/Los Angeles Timezone

2021-02-01T12:00:00-08:00

2021-02-05T14:00:00-08:00

Where:

Online Event
Registered teams will be sent Zoom links.
What is Team Science Boot Camp?
Team Science Boot Camp is a free, interactive multi-day workshop intended for interdisciplinary research teams working on a translational research project/study or within a research center. Teams will learn the theory and practice of team science. Due to the Covid-19 pandemic, the training will be offered virtually this year over a 5-day period.
The workshop will take place daily Monday, February 1 through Friday, February 5, from 12:00-2:00 pm Pacific. The first 90 minutes of each day will be spent on team science education and training, and the remaining 30 minutes will be allocated to dedicated team working sessions.
Training content will be tailored toward addressing and solving specific challenges that the attending teams are facing. By attending the Team Science Boot Camp, your team will build stronger relationships and acquire strategies and tools to help you become more efficient and effective in your work together.
Topics that may be covered include:
Teamwork & Team Processes
Awareness and adaptability of working styles and modes for addressing conflict
Lean Project Management (e.g., project organization, goal setting, planning)
Giving and receiving feedback
Meeting and time management
Communication
Leadership skills
What Do Past Attendees Have to Say?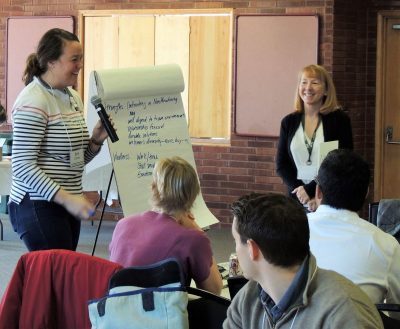 "Attending the Team Science training made such a difference. I am a new leader and was struggling with how to facilitate a feeling of a team and working toward a common goal. Now the team feels more empowered and we are working together. [What I interpret as] the feeling of being part of a team has made each of them show more commitment to the study and also more open to share ideas. I am telling everyone about this training, it was like water to wine. "
-Daniela Luquetti, MD, PhD, Seattle Children's Research Institute, Center for Developmental Biology and Regenerative Medicine
"I am still in awe of the impact that the training had on the members that directly participated in the workshop, in addition to members that were not in attendance. We learned a great deal about ourselves, as well as one another, and have adopted many of the tools/strategies into our day-to-day practices. Although we felt that we had been working well as a group, the education that we received through this formal training program truly pushed our team to function at a much higher level. Because we were able to hone in on strengths and special skill sets for each team member (beyond just our 'role' on the team) during the training, we all felt more empowered to exercise those skills (and delegate, when needed) – which elevates the functioning and productivity for the entire team."
– Carrie Heike, MD, MS, Associate Professor, Department of Pediatrics, Director, Craniofacial Media Lab
…this formal training program truly pushed our team to function at a much higher level.
"We didn't attend the training having any pre-existing issues that we wanted to resolve. Team training did at least two things for us. One, it forced us to do an outline of the key milestones, which forced us to talk to who's doing what. Two, it acted as a forcing function for the team to get together. Having those days in person really helped with team building. I think our team is able to collaborate more effectively because of the training."
– Gary Hsieh, PhD, Associate Professor, Human Centered Design & Engineering
Learn More About Team Science
Team Requirements
You should apply for Team Science Boot Camp if your team:
Is an interdisciplinary research team with a specific translational research project
Has a minimum of 3 team members who can commit to attending the full 5-day online training
Has the capacity to complete about 20-60 minutes of pre-work before each session
While space is limited for this training activity, all ITHS members are invited to request a spot for their team to attend. Space will be offered on a first-come, first-served basis for teams who meet the above requirements.
About the Trainers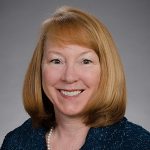 Brenda Zierler, PhD, RN, FAAN serves as a professor in the UW Department of Biobehavioral Nursing & Health Informatics and as Director of Research, Training and Faculty Development for the UW Center for Health Sciences Interprofessional Education, Research & Practice. Her research focuses on health systems/health services related to interprofessional (IP) collaborative practice (CP) to improve team functioning and patient and systems outcomes. She currently leads three grants related to IPCP (one focuses on leadership and team development; two on transforming practice for teams delivering care for underserved patients with heart failure).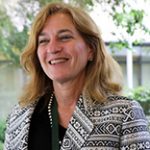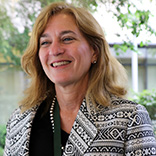 Jennifer Sprecher, MS, BS IE, Executive Coach, Lean Six Sigma Black Belt. Ms. Sprecher is the Director of Strategy Development for the UW School of Nursing and has 5 years of experience and knowledge with team science training and coaching and over 20 years of experience with facilitation and lean project management. Ms. Sprecher works within organizations by implementing concepts of Lean Project Management, measurement systems, change management, benchmarking, team problem solving and leadership coaching to improve organizational performance and workplace satisfaction by increasing engagement. Through application of leadership and team coaching concepts and various assessments, she helps departmental chairs, technical and operational leaders and teams achieve their desired goals and vision.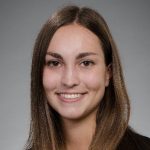 Nicole Summerside, MHA is the Manager of Program Operations for the UW Center for Health Sciences Interprofessional Education, Research and Practice (CHSIE). She delivers program management and support, working to facilitate interprofessional collaborative practice (IPCP) environments and team-based care to improve team functioning and relationships, and patient and system outcomes. Nicole's background is in Health and Business Administration.
Day 1 Materials
Day 2 Materials
Day 3 Materials
Day 4 Materials
Day 5 Materials